The Importance of Clear Branding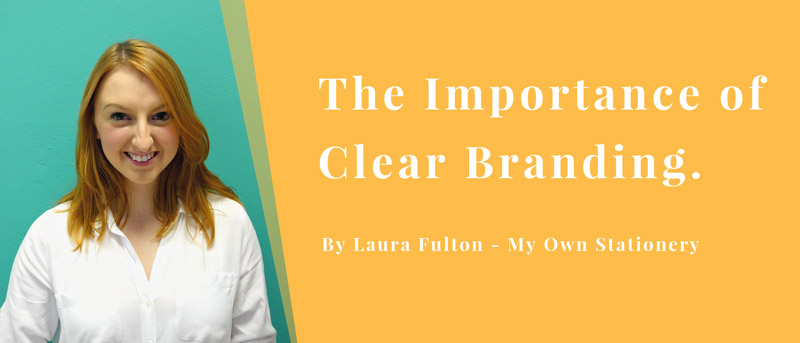 On the blog today is Laura Fulton, from My Own Stationery. She is here to share her knowledge on the importance of clear branding and how you achieve it with these 7 super useful tips.
When it comes to branding a business, 99% of companies and entrepreneurs will have a logo professionally designed. Many of them will even incorporate this and some of the brand colours throughout their business communications, too.
But whether these branding elements are being fully utilised within the business and across its marketing is another story.
To make sure you get the most from your brand, I've listed 7 of the most effective ways to make sure your customers and clients remember your imagery and message, both online and in person:
1. Social Media Imagery
Visuals in general are extremely important in social media, grabbing attention and conveying a message quickly. Too often the opportunity to consistently reinforce your branding is lost when choosing stock imagery or creating different designs to match each message.
Keeping an over-arching theme to your imagery on social media will help to grow brand awareness and brings a level of professionalism. Keeping to a colour palette is one obvious way to do it, as is the consistent use of typeface and logo placement on top of your images. The templates you use for advertisement-style posts can also help your branding if you maintain consistent composition.
On channels like Instagram, using the same filters on photographs or creating a grid-like pattern shows forward planning and makes you more recognisable.

2. Social Media Posts
Social media is a great way to tell your brand story. It is more regularly updated than a website, more discoverable by the public, and gives you more space to show your personality. A stylistic theme is good for branding and it doesn't just apply to the imagery in your social media posts.
Think about the words and messaging that you use each time. Try to find your business tone of voice and use it always, so that people know what to expect and even come to recognise your brand when they read your posts. Creating unique videos can also be a great differentiator to raise your business to a level above everyone else on social media.
QuinnsThePrinters achieves this really well on Facebook, building a strong community of potential clients (graphic designers) by becoming a hub for all things educational and funny within their industry.
3. Contributing to the Community
Many people see guest posting on websites as an exercise in marketing, SEO or thought leadership. While it brings many of those benefits, genuinely contributing to the online community in this way is also an opportunity to reinforce your branding and add a deeper meaning to it, that will set you apart from the competition.
So remember to focus on what makes you different and write on that topic. Perhaps you have a different tone of voice, a different business model, or a different approach to the industry. When speaking about these topics, include your key messaging and explain your name, your logo and the journey of your business, to further cement it in people's minds.

4. Event Branding
The basics of event branding are easy to get right. With enough budget, pop up stands or printed flyers are a good investment. Some people might even take it a step further with promotional clothing or car decals. However, there are smaller and more subtle ways to convey your branding while networking or exhibiting that are too often overlooked.
Branded business cards are a useful tool to leave with each person you meet, as are branded lanyards or name badges. These reinforce who you are near eye level during each interaction. And even if you don't want invest in branded clothing, simply wearing something of your brand colours could be a subtle reminder to each person you meet to associate your face with your business.
5. Meeting Branding
Meetings are often derided as the killer of productivity in business, but even the essential meetings aren't always fully utilised. Communicating your branding can be done simply and subtly in the way you present your meeting space.
Branded pop-up stands in the room are great if you have them. But even if your budget doesn't stretch that far yet, there are cost-effective options. Branded coffee mugs and pens are a popular choice in the office and give that "big business" impression. An even better option is investing in branded notebooks, like those you can personalise at My Own Stationary. These can then be taken with you wherever you go and have to take notes.
6. Colour Coordination
Usually your branding decisions in the beginning will involve you choosing a key colour, or a few colours, which will become synonymous with your business. Sometimes that colour is incorporated into office decor or even into uniforms, and that's all great in-person marketing, but it can work really well online, too.
Coordinating the colours through a bespoke website design, for example, can be really effective. Each time someone sees it, or a page or article from it, they can immediately start to recognise that it is you. Look to businesses who specialise in marketing or design, like Glaze Digital, for inspiration on how to do this for your own site.
7. Email Signatures
The sign-off at the bottom of your emails is useful for contact details and a professional finish, but it's actually one of the most common missed marketing opportunities for your brand. Think of how many new emails you send each day, or how many replies you make. Each one could support your branding in a simple way.
You could design an email signature footer that is visual and leads to a specific place online when clicked. You could use a software system like Wisestamp to help you with the design and hyperlinks, or to include a headshot adding that personal touch. Even just the simple act of incorporating your colours and fonts into a basic text signature is a step towards standing out in the email inbox of partners or potential customers.
Time To Make the Most of Your Brand
Remember that your brand doesn't just stop at your logo. Follow these 7 tips and start getting the most out of your brand, and creating a clear and consistent message to your audience and customers.
Guest blog by: Laura Fulton, My Own Stationery
Additional Reading
3 Steps to Creating the Best Online Brand for your Business