SEO Basics & How To Get More Visitors to Your Website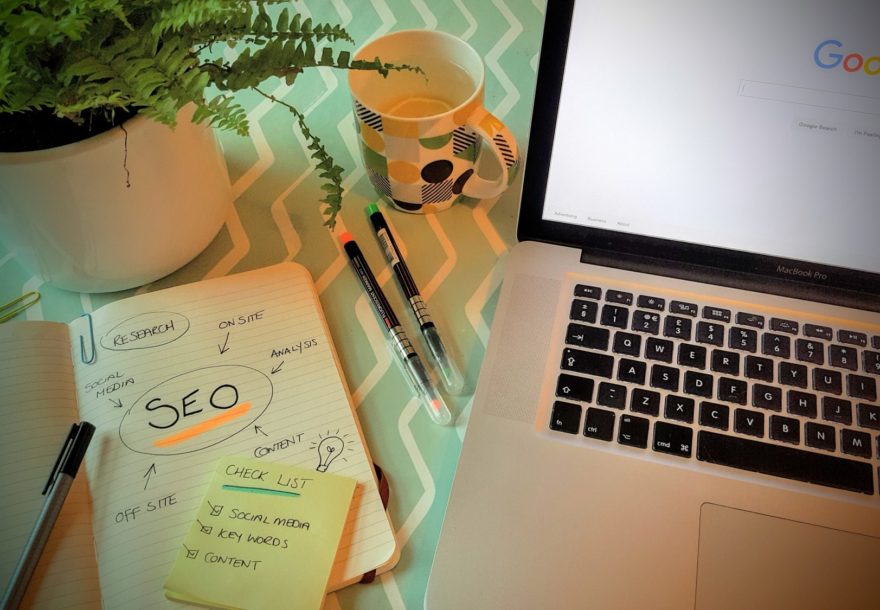 Amended Monday 12th Feb 2018
SEO or Search Engine Optimisation is the process of improving the visibility of your website in Google search results.
Improving your SEO is the best way to improve your website traffic. However, it's not an easy or obvious thing to get your head around.
It's something that eludes quite a few of my clients, which is why I'm updating this blog from 2016 and adding some extra detail to my explanation of SEO basics and how to get more visitors to your website.
SEO basics and how to get more visitors to your website.
There are two different types of SEO – Offsite SEO and Onsite SEO
Offsite refers to all the things you can do outside of your website like link building and social media management and On-site refers to anything you do within your site like tags, Mehta descriptions and loading speed.
So, what does Google want from your site? Google's aim in life is to give the end user the best experience possible. It needs to make sure each user finds what they are looking for and finds it quickly. So, it needs to serve up relevant and up to date results.
When google looks at your site it asks itself these questions:
What is your site about? What are the key words associated with it?
Does it behave itself and load nice and fast and render correctly?
Is the content worth reading? Do people stay on it for long and do they share what they read with others?
How up to date is the content?
Here's how you can answer those questions effectively.
Offsite SEO
Have Inbound Links
An inbound link is when another website links to yours. The key here is to have as many popular and respectable sites, related to your business link to you as possible and heres why.
– It's important your links are from sites that are related or have complementary content to your own business as this will help google figure out what your site is all about. If you're a financial adviser try and get sites that write about financial issues to link to you.
– The more inbound links you have from sites that also have lots of links and that are deemed credible, the higher you'll score with google.
I would avoid paying for links and being tempted by 'link building networks' as these are easily recognised by google as spam and you will be penalised for it. What I would suggest is spending a bit of time guest blogging for sites in your subject area so that you can get the link back.
Taking advantage of Social Media
Google has realised that if people are sharing your content on their profiles, that must mean you're writing something worth reading and for that they will reward you by showing your pages higher up in their results.
If you want to gain social media likes and shares you need to keep your content fresh, and to achieve that make sure your content is at least one of these things:
Informative
Intriguing
Funny
Avoid spamming your followers with news about your company, instead try and offer advice or do a bit of research and  that will really engage your visitors.
By all means promote your services, but do it after you've offered up a series of relevant and useful posts, as these will help build your credibility. Even then I would try and keep the office news and offers posts to a minimum.
Which social network should you be building a presence on?
– Facebook is good for B2C but is not so good for B2B
– LinkedIn is a great way for you to market yourself to your professional contacts
– Twitter is great for both B2C and B2B and is fast paced
– Pinterest is good if you have actual products to show off and is becoming popular with designers and fashion brands.
– Google+ is also popular with retailers as they can make the most of it's large image sizes.
Creating Fresh Content
Ok, so now you know the social media tools available, we need to focus on the what you're going to post or tweet? You need good quality, fresh content on your area of expertise and I'll say it again because it's important, the content needs to be at least on of the following:
Informative
Intriguing
Funny
Try and focus on a particular topic and write regular insightful posts that help other people. How To's are great, recommendations, and Top Tips are all good ways of engaging people, and it's also worth making sure your post or email etc, title is interesting and enticing so it sticks out and makes people want to open it.
There are two benefits to producing good quality content, firstly you will score higher on Google because you are naturally using your main key terms and terms related to your industry. And secondly it will form part of a good content marketing strategy. Your quality, trust building content will demonstrate your expertise making people want to use you and recommend you.
Onsite SEO
This last one is a bit more technical. It's all about the back end, of your site that is, and it's about making sure your pages are set up with the following:
Making sure URLs have relevant key words – Your URL is your page address; the https://sheisdigital.co/seo-basics
Setting the right page title – Your page title should include your keywords and an accurate description of the page content

Giving all images 'alt' tags – An alt tag or text is simply the text description of your image. Google places high value on alt tags to determine what's in an image, but also what's in the surrounding text.  When you save and upload your images make sure you use your key words to describe what's happening in the image.
Here's how that looks in WordPress:

Using h1 paragraph tags properly in your copy
Your H1 tags are sometimes the title of your page or other emphasised text on your page. Putting appropriate key words in your H1 tags is important for SEO because it tells both search engines and website visitors what the content of pages will be about.You can see from these screen grabs from the post your reading now, the key word SEO Basics comes up in all of the places listed above. It's in the URL, page title, h1 tag, image alt text and in the body copy of the post. By having my key word in all of these places Google will know exactly what the content of this page is about, making it easier to match with search results.
Summary
SEO all comes back to proving to google that you provide an excellent user experience in terms of the content on your site and how it's displayed.
It also works on a customer satisfaction level too. The better the experience your visitors have, the more likely they are to turn into paying customers – win win!
Download Your Free Content Planner for the Best SEO
When you've gone to all the effort of writing a blog post, you need to make sure it gets found in searches.
This content planner will make it really easy for you to make your blog posts fully optimised by guiding you through all the elements you need in your blog post to make sure you get the green light for SEO.
You can also use this planner to map out each blog post ahead of time. Giving you a detailed outline of your post so writing them wont seem so daunting.