How To Find Your Audience – By Maxine of Digital Bon Bons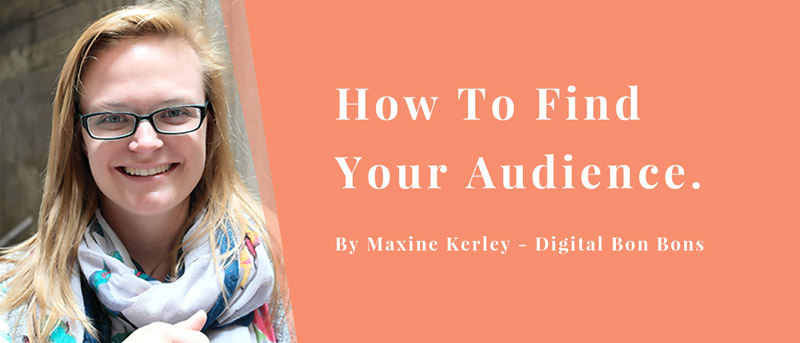 I'd like to introduce you to Digital Bon Bons.
This family focused digital agency is here to help you understand digital marketing and how to make it work for your parent and child centred business.
Maxine Kerley, the founder of Digital Bon Bons, knows the importance of targeting a niche demographic, and has very kindly broken down how you go about finding your target Audience in the guest post.
Finding Your Audience
Do you run a business with parents as your customer? You either sell baby products, kids clothes, or run a class, and you want – no need, to be found by your target customer.
But have you thought about how you find them? A key strategy in digital marketing is knowing your audience and most importantly where to find them online.
Digital presence is key and with more and more consumers shopping online, and booking online you need to know where they are.
But where do you start?
Think Like Them
One of the key places to start in finding your audience, is to think like them.
If you're trying to attract parents to your business, then think how a parent would behave, what their habits would be.
For example, a parent is most likely to be online between the hours of 7pm-9pm after the bedtime routine, which also naturally fluctuates depending on the age of their children. So using this, think about how you promote yourself at these times.
Search Like Them
If you wanted to find your business, what would you search for in Google? If you wanted to find a local baby class for example in North London you might type Baby Classes in North London. Try it and see the results, who comes up, does your business?
If it doesn't and this is a key search term for you, then you might need to look at your SEO strategy and the keywords within your website.
Social Like Them
It sounds obvious, but have you properly thought about what platforms your audience use?
It is so easy to get caught up in social media and think you need to be on every platform to get the most engagement or traction, but it's simply not true.
You need to find where your audience are engaging with brands and business like you and then join those platforms.
Try using Facebook search for businesses similar to you, see what their likes are like, their engagement levels.
Use #hashtags on Instagram and Twitter to see searches and results of businesses. Look at who is following competitors of yours, if they are your audience why not follow them and schedule a introduction post for when they visit your feed to see who you are.
Ask Them
People think that a good old fashioned survey is dead, but it isn't. Survey's are just as popular now, if not more so.
They are a fantastic way of asking your audience directly about their online habits. Don't be afraid to probe what channels they use, or what sites they like visiting.
It all helps you to understand their behaviours and therefore market to them better. Surveys are great to share with a variety of audiences too, share it on your social channels, email it in your newsletter and maybe even send it to friends to circulate it to people that aren't your customers yet but could be.


Top Five Tools For Finding Your Audience
Google Analytics:
Fab, free tool connected to your website. Google Analytics gives you insights on your visitors right down to what device they were using and what page they left at.
Google Trends:
Again, another free tool from Google to help you look at trends in search terms to gain better understanding of your audience's habits when surfing the web.

Survey Monkey:
For creating those wonderful surveys and getting them straight into their inbox.

Facebook Analytics:
These give great insight into what your audience are doing on your page but also enables you to compare your page with others. You can track their activity, what they're doing and what they like.
Online Forums (like Mumsnet):
These are great for accessing communities where you audience are communicating. You can conduct advanced searches and find topics that you could jump in on representing your business – in a non salesy way. Remember nurture your approach, don't be pushy.

Find out more about Maxine and Digital Bon Bons.
And on Social Media: