How To Get More Instagram Followers: The Marketing Campaign That Increased My Followers By 3000%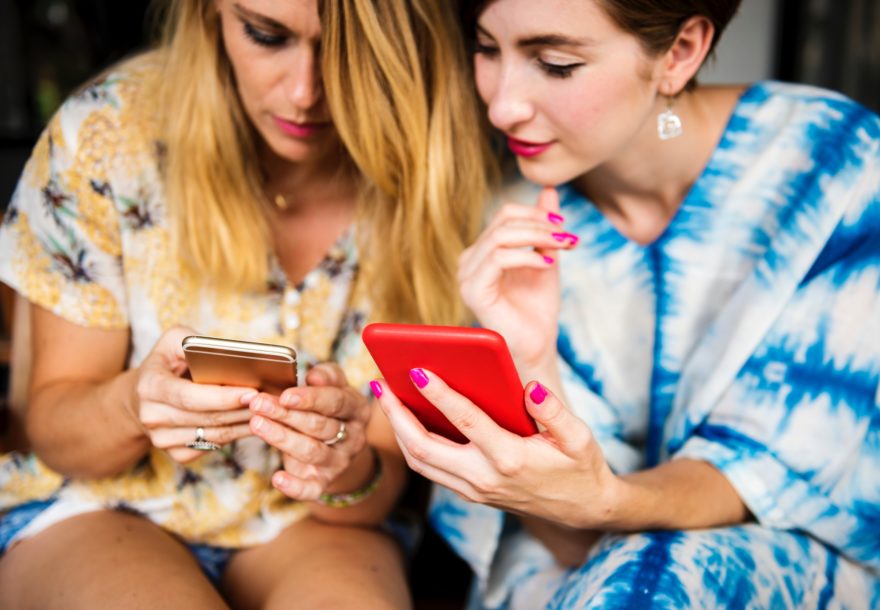 Want to know how to get more Instagram Followers? I got over a 3000% increase in Instagram followers in 8 just weeks?
Getting social media followers isn't easy, but using non promotional content and building authority led me to a 3000% increase in my Instagram following in just 8 weeks.
In previous posts I've talked about the importance of reflecting back on your marketing campaigns before you plan new ones. A process I do myself regularly so I can stay ahead with my marketing and make sure it brings me the return I'm looking for.
I've learnt a lot from my marketing efforts of 2017, and 2 campaigns in particular exceeded my expectations:
Campaign 1 – Using Instagram To Drive 41% More Traffic to my Website and Sell Workshop Tickets
Campaign 2 – Increasing Email Subscribers by 80% Using MailChimp
What I found out from going back over the process and the results could help you too, which is why I'm sharing my new found knowledge here in this blog post.
Campaign 1 – Using Instagram To Promote Workshops
At the beginning of 2017 I was given the opportunity to do a free talk on social media marketing to a local mums networking group. I thought it would be a great way to boost my profile, so I  happily accepted. I had to prepare a 40 minute talk on the best ways to use social media to market your business.
There were slides, a little game and a Q&A at the end. Although it was pretty daunting, I got through it and had some great feedback at the end.
Reflecting back on the talk, I realised I had a workshop in the making. Using the talk as my framework, I created She Is Digital's first workshop, 'Building Your Brand on Social Media'. All I needed now was people to buy tickets.
Set The End Goal
Instagram was my platform of choice to promote the 'Building Your Brand on Social Media' workshop. I'd been using the platform personally, and in Jan 17 Instagram was introducing new features all the time and marketers were raving about it. It seemed like the perfect time to give Instagram a go, so I created a business profile for She Is Digital to see if I could make it work.
Before I could start promoting the'Building Your Brand on Social Media' workshop on Instagram, I needed somewhere for that traffic to go. I to setup the workshop on the She Is Digital website using the WordPress plugin My Event On and tied in with PayPal, so I could take bookings directly through the site.
It took a bit of extra time setting up the event on my website, over using a platform like Eventbrite, but the benefits of having it onsite are that I avoid Eventbrites fees and more importantly – I'm driving traffic to my website. So, even if people don't book on the course, they might discover useful content, or sign up to the mailing list to be informed of future workshops.
So in summary; I'd have lost an opportunity to gain more website traffic and email subscribers if I'd have directed people to an Eventbrite page. This is why it's vital to consider your platforms before you do any campaign – never miss an opportunity just because it might be a little harder to do.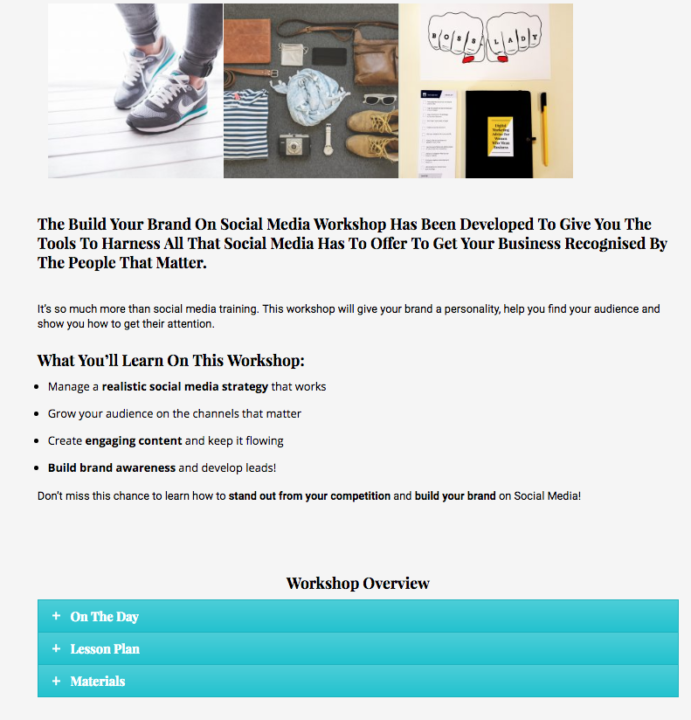 Now with the 'Building Your Brand on Social Media' workshop setup on the site I had it ready for promotion so that I could direct traffic to the workshop page using the link in my Instagram bio.
But for the time being, I set the link to go to the She Is Digital home page, because it wasn't time to promote the workshop yet, that would come once I'd built a following and an authority on the subject of social media.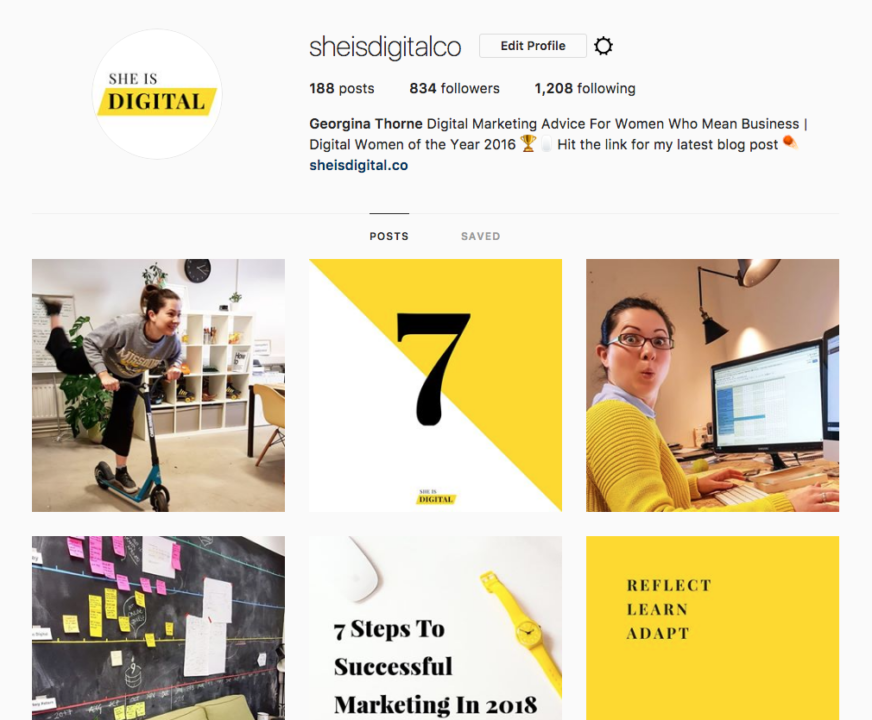 Build My Following on Instagram
At this point the She Is Digital Instagram account had about 25 followers. So before I could promote the workshop I needed to build a bigger following, and use my posts to convince my audience that I was the real deal and build their trust.
I needed to show my followers that I was an expert in social media marketing, so that they would see me as an authority in this area and want to learn from my social media advice.
To build my following and gain their trust I posted regular useful content relating to social media marketing; incorporating statistics, facts, tips and best practice advice into my posts (both directly in the post image and description). Plus I posted images of myself, so they knew I was actually a real person and not a spam bot.
Here are some example posts:
My Strategy
If I was going to get my followers to book a place on my workshop I needed to connect with them and understand what they needed. Find out what areas of social media marketing they struggled with and help to fill that knowledge gap. 
Going straight in with a hard sell, would fall flat because my followers are still getting to know me. I needed to use each of post to gain their trust. 
I spent a lot of time finding other social media marketers and sharing their content. I created my own content which answered common questions, and some bonus marketing 'insider' knowledge and I left helpful comments on related posts.
Being helpful to my followers and making an effort to be sociable with them was fundamental to gaining their trust.  
The thing with using social media platforms like Instagram is you have to actually be sociable on them. I know that sounds obvious but you'd be surprised at how many people ignore this understanding of social media. So, if you get a new follower say hi to them. Rather than just liking a post, leave a comment.
Just filling your feed up with post after post isn't going to get you very far unless you engage.
Firstly people like to be part of a conversation, so make an effort and either start one or participate in one.
Secondly, the algorithms will dictate your overall reach by how engaging your posts are.
Instagram will think "hey this chick is getting lots of attention (engagement), so I'd better increase the reach of these posts as they seem useful and more people want to see them."
It makes sense; the more sociable you are, the more your content gets pushed out there. If you don't show up to the party, you wont get invited again.
I'm nearly 2 weeks into my campaign and I still haven't talked about the workshop once.
The Bait
Now I'm building up my followers and gaining their trust it's time to give them more. But it's still not time to mention the workshop, I'm going to give them more free content.
I need to show my new followers what I'm made of. Prove to them that I know what I'm talking about and that they can trust my advice. Offering more content to support my authority on Social Media marketing will make my followers trust my authority and want to learn more.
To assert my authority on social media marketing I used my blog. Any new posts on the She Is Digital blog were focused on social media marketing. A mix of channel specific posts and general social media marketing best practice.
The content in the posts illustrated my deep knowledge on the subject of social media, which backed up my Instagram account and helped gain trust from my followers.
I shared simple short videos on Instagram to promote the content from my blog and get to know my audience. At this point my bio link is set to my home page which features that newest blog post.
Example of She Is Digital Instagram video: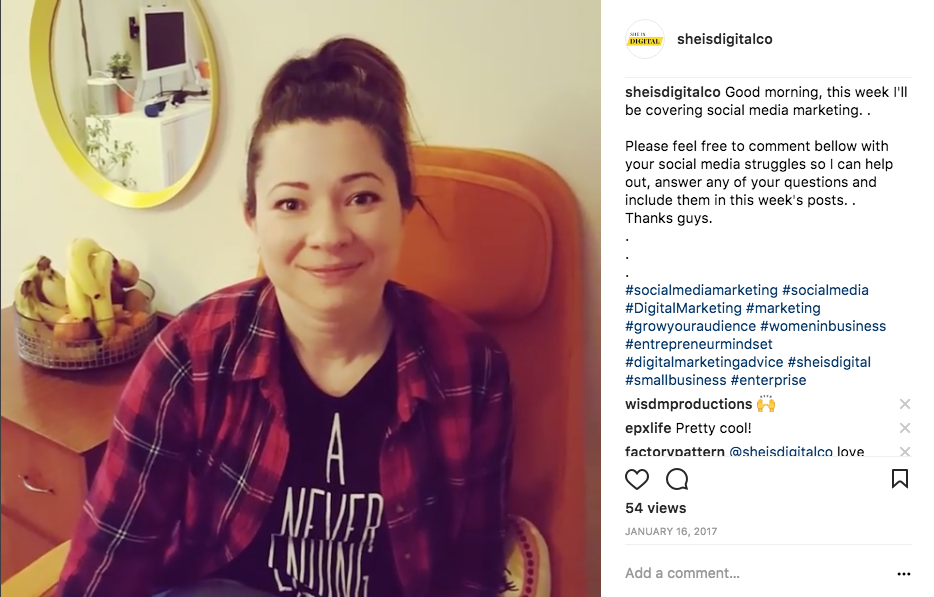 I also used the blog posts to introduce my followers to the 'Build Your Brand On Social Media' workshop.
I set up a call to action at the bottom of the blog post directing readers to find out more about social media marketing. It took them to the workshop landing page, and as I didn't have a date set yet, if people were interested they could register their interest and receive date notifications.
The gentle introduction to the workshop and the email notification form helped to get steady flow of emails coming in from people asking when the workshop was going to be.
The Sell
Through non promotional content I built my Instagram audience up from 25 followers to nearly 800 followers in 8 weeks. I've engaged my followers through helpful advice and built my authority on the subject of social media.
Now that they're primed, it's time to sell my spaces on my 'Building Your Brand on Social Media' workshop.
Through the levels of engagement (likes, comments & bio link clicks) I tracked on Instagram, I was confident that my followers were interested in the workshop, at this point (and only at this point) it's time to promote it directly.
I set my bio link to point directly at the Social Media Workshop page and introduced posts promoting the workshop into my feed.
These promotional posts began nearly 3 months after my first post and they were still interspersed with non-promotional Instagram updates, so as not to appear too "salesy".
Example posts:
Why Wait So Long to Begin Selling?
3 months seems like a long time to wait until I began selling the social media workshop directly. But if I'd have began by pushing promo updates on Instagram to my followers before I knew they were interested, they'd have been turned off, I wouldn't have built an engaged bunch of new followers and would've potentially annoyed my existing followers.
Think of it like this, if you walk into a shop and the sales person leaps on you the minute you're in there, how quickly do you escape? I bet you'd rather browse first, choose something that you want and ask for advice if you want it.
Social media is the same, it's the "un-sales-y" sell, show people your wares and allow them to discover what you're offering before you jump in and push that sale.
Brass Tacks
So what did I gain from Instagram, facts and figures? 
16% increase in website traffic
Between Jan 10th and April 26th, I saw a 16% increase in my overall website traffic, which was fantastic
Amazing conversion rate!
1 in 10 visitors to the workshop landing page booked a place.
A short 3 month marketing campaign to success
I introduced Instagram into the marketing strategy to promote my new workshops on the 10th of January, up to the day before my first workshop on 26th April. The 10th of Jan being my very post, where I started to introduce myself as a social media expert, then a month in I introduced the blog posts to prove I knew what I was talking about and then a month on from there actively promoting the workshop.
41.85% of my new website traffic was now coming from Instagram
So the posts were working hard and pushing website hits through the roof 
Instagram without a doubt helped me to build my profile, install trust in my audience and ultimately sell more tickets to my workshops.
Campaign 2. Increasing Email Subscribers Using MailChimp
My purpose for She Is Digital is to help as many women as I can be better at digital marketing. One of the ways I do that is by sending out useful resources in the form of articles, tips and downloads in my emails.
The End Goal
Now for me to actually send out those helpful emails each month, I need email address. So, on November 1st, I made it my purpose to increase my email subscriptions by 30% by December 31st.
Here's how I did it.
My Strategy
With Christmas coming up, I wanted to take advantage of two age old festive traditions, advent and the giving of gifts.
I decided to created a digital advent calendar. I wanted to use the advent calendar as a way to give my audience a gift every time they opened a new door in return for their email address.
There would be 25 free downloads, one for each day of advent, and on each day a new door would become active allowing you to access the free download after filling in the email form field. The downloads would be set up on my website, each one with it's own page to access it.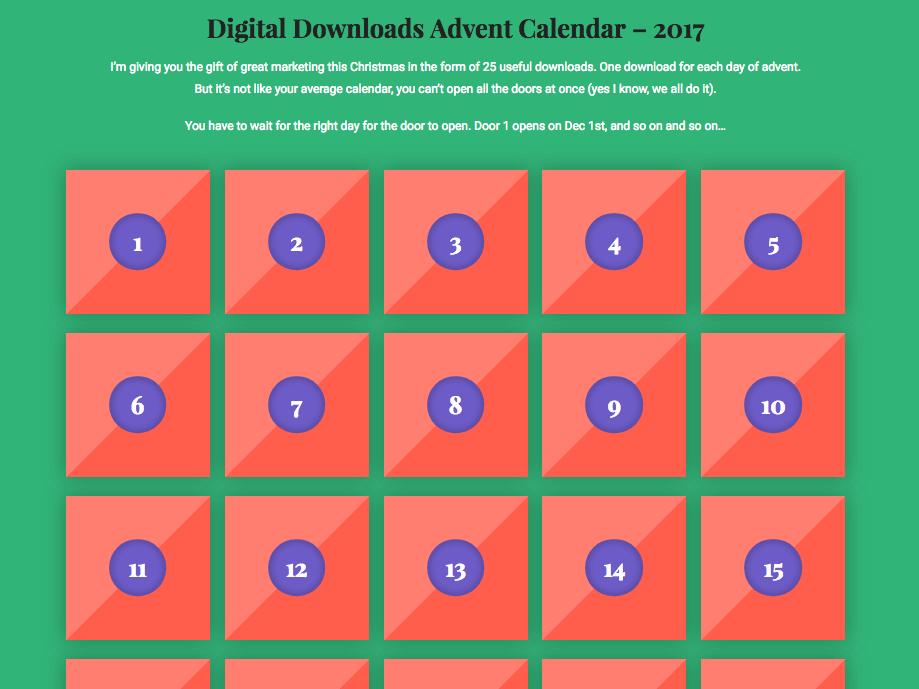 But there were a couple of snags.  I couldn't ask each person for their email address every time they wanted to open a door, but I didn't want to limit the sign up to calendar to only the 1st day of December. I only wanted to allow access to each door on that specific day, so it reflected an actual advent calendar. But I didn't want people who signed up on the 15th of December to loose out on the previous days downloads.
So I had to think of a way round it. I wanted to offer them access to all 25 doors with just one email sign up at any point during the 25 days of advent.
The work around was to use MailChimp to automate the process.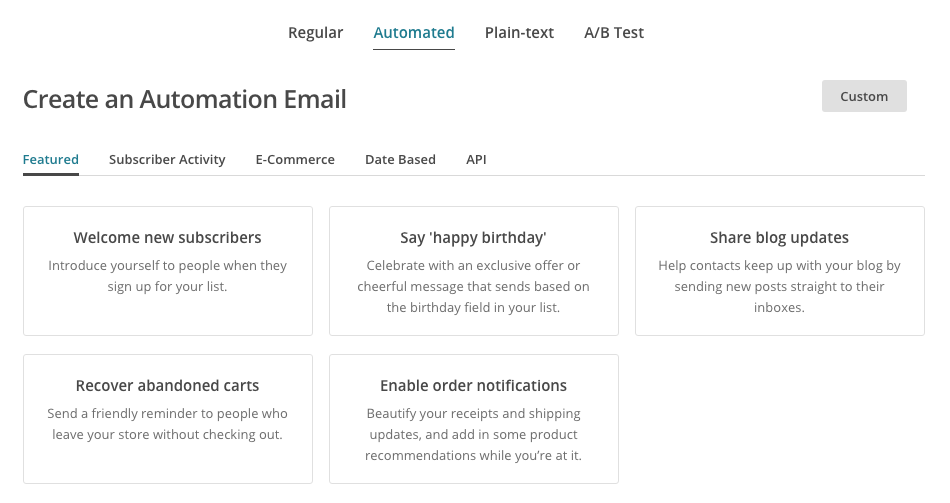 MailChimp Custom Workflow
MailChimp allowed me to set up an automated workflow using the Featured 'Welcome New Subscribers' template. Where opening a door on the digital calendar and filling in the email form field once, would set off a sequence of 25 automated emails each one with the link to the free download.
The great thing about this was that it didn't matter if you only found out about the calendar on the 16th of December. You could open door number 16 and by entering your email address, MailChimp was set up to send you all 25 downloads starting from day 1.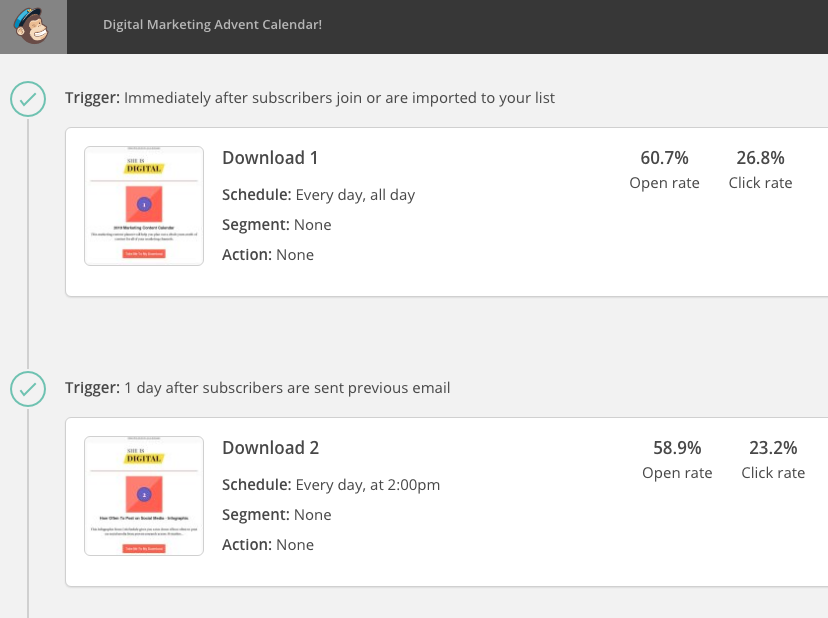 I set the workflow up so that after the first email was sent it triggered the other 24, with each email being schedule 24 hours apart.
It meant I could continue to promote the calendar all through December, because you would still get all 25 downloads regardless of when you subscribed.
Example email: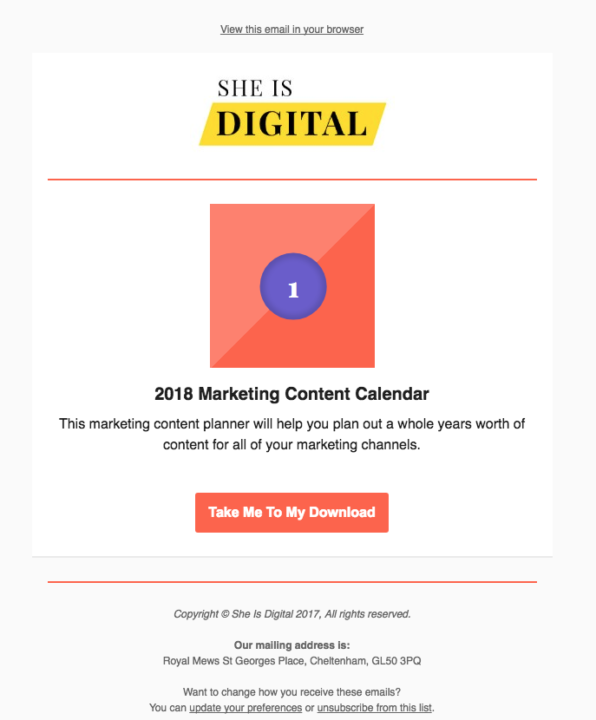 Brass Tacks
By December 25th I increased my email subscription by 80%, which was huge. But I didn't just increase my email subscription. By making each of the downloads accessible from a specific page on my website, I increase my website traffic by 76% too.
I've offered free downloads in return for emails before, but I had never seen the same kind of return like the digital advent calendar.
The main difference between my previous campaigns and the digital advent calendar was that the calendar was time sensitive. It had a deadline, if you hadn't subscribed to the downloads by the end of December you wouldn't be able to get them at all.
The calendar created a sense of urgency that my other free downloads didn't have. Which benefited my campaign in two ways.
The first being that people signed up straight away, rather that waiting and potentially forgetting.
The other benefit was that by created time sensitive content, my marketing was time sensitive too. If I was going to get the most out of those 25 days I had to promote the calendar every day, giving it maximum exposure across all of my available channels.
A Brief Summary 
The most important thing I've learnt is that if you want an audience to take notice of your brand, you have to give them something of value. Don't just tell your audience that you're the best at what you do, they can choose to disagree.
Lead by example and show your followers you're best at what you do and they can't argue with that.
Non promotional content gave me the best results across both campaigns.
Instagram was a great place to promote my service, providing I had authority and trust. By taking the non promotional approach my campaign lead time was exactly 3 months.
MailChimps automated Custom Workflow allowed me to remain in constant contact with my audience, providing them with a continuous flow of content helping me to increase my onsite lead generation.
When I plan out my digital marketing campaigns for 2018, the number one thing I'll definitely include is value through non promotional content.