fri26may9:30 am3:30 amEvent OverBuilding Your Brand on Social Media - MayA social media strategy that works. Grow your audience. Create engaging content. Build brand awareness and sales.9:30 am - 3:30 am GMT Royal Mews, St Georges Place, Cheltenham, Gloucestershire, GL50 3PQBook Now
Event Details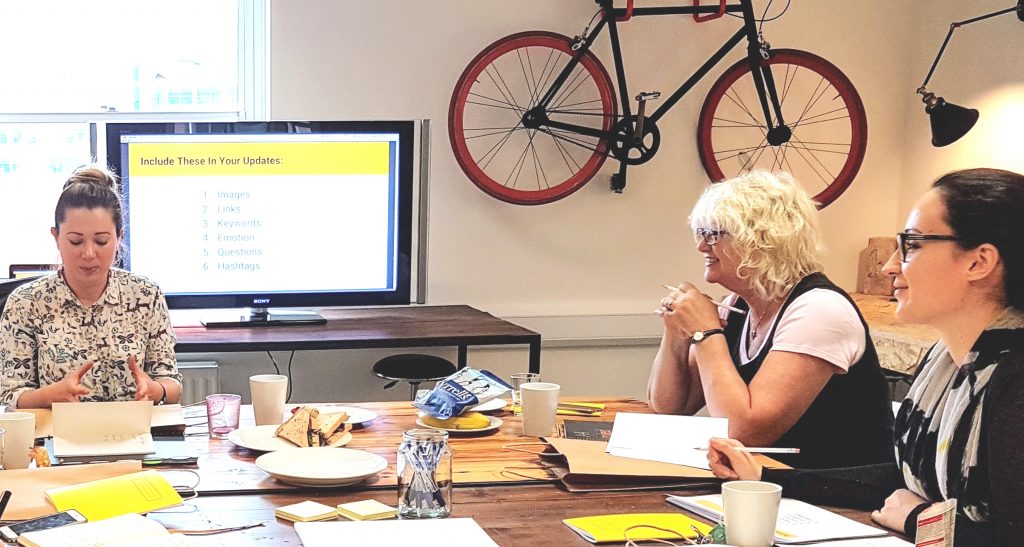 The Build Your Brand On Social Media Workshop has been developed to give you the tools to harness all that social media has to offer to get your business recognised by the people that matter.
It's so much more than social media training. This workshop will give your brand a personality, help you find your audience and show you how to get their attention.
What you'll learn on this workshop:
Manage a realistic social media strategy that works
Grow your audience on the channels that matter
Create engaging content and keep it flowing
Build brand awareness and develop leads!
Don't miss this chance to learn how to stand out from your competition and build your brand on Social Media!
Morning
9.30am – Arrive, have a shot of brain boosting juice, chat, relax and get ready.
9.40am – Georgina will introduce every one a bit more formally.
---
10am – Work begins
11.am – 7 minutes of zen. AKA a tea break to hydrate and fuel your senses.
11.07am – Back to it
---
12.pm – Out for lunch somewhere nice. (menu choices to be confirmed near the day)
Afternoon
1pm – Back to brain busting
2pm – 7 minutes of zen. AKA a tea break to hydrate and fuel your senses.
2.07pm – The home stretch
---
2.45pm – Wrap up the day and say our fair wells.
3.pm – Off you go full to the brim with the skills to blast your brand all over that social media scene.
Note: Tea, water, fruit, etc will be available throughout the day not just at zen.
After The Workshop 
When you have completed the workshop, the closed Facebook group will be there for as long as you need, to share your progress, ask questions and generally keep in touch.
All of the course worksheets will be available to download.
Lesson 1
Introduction To Social Media and How It Can Benefit Your Business
A quick explanation of social media and how it can be used to create lasting relationships with your customers.
Lesson 2
Understand Your Brand And Purpose
Figure out your brand story, your brand personality and your goals so that it's clear in your content and to your audience.
Lesson 3
Define Your Audience
Figure out who you're selling to and why they want your product to perfect your tone of voice.
Lesson 4
Decide What Platforms To Use
Get tips on how to figure out the best social media channels to use when creating and sharing content.
Lesson 5
Insights and how to get the most of them
Find out how to use social media insights to track your engagement, find out who's following you and what posts are the most effective.
Lesson 6
Increase Engagement
Social media post best practice and how to create your pre post checklist.
Lesson 7
Planning Your Content
Learn how to create a fresh and engaging mix of content and plan it ahead of time with a content calendar.
Lesson 8
Get It Out There
Get your content out there! Learn about scheduling tools and services that will help you share content like a pro.
Lesson 9
Keep Updating
How often to engage and update content on social media to keep your followers hooked and ready for more.
Lesson 10
Up Your Game
Using paid for advertising on social media to grow your business.
All you need to take this workshop is you, your thinking cap and a killer smile.
The workshop is pretty hands on and there will be actual work for you to do. Nothing too tricky though, so don't panic, there will be a series of Worksheets for you to complete through the day to make each stage of the course actionable:
Worksheets
Social Media Goal Setter
Your Brands ID
Your Audience Persona

Pre Post Checklist

Content Calendar
Feel free to bring your laptop along, but it's not essential to the workshop.
Facebook Group
Before the day, a closed Facebook group will be set up for all the workshop attendees to introduce themselves and get to know each other.
Do I have to have a blog/business to do the workshop?
Nope! You can be a total newbie or already have an online presence you want to boost. Our workshop will give you the direction and skills you need to build your brand from the ground up at whatever stage you're at.
Can I cancel my booking?
Yes, you can cancel your booking, but we need 7 days notice for a full refund. After 7 days, we can't offer you a refund but we can give you credit to put towards another workshop.
Do I need to bring my laptop to the workshop?
You're more than welcome to bring along your laptop, but it's not essential to the workshop. The workshops are more hands on, so you just need to bring yourself.
Time

(Friday) 9:30 am - 3:30 am GMT
Location

Factory Pattern

Royal Mews, St Georges Place, Cheltenham, Gloucestershire, GL50 3PQ
Ticket Section Title
Digital Marketing Workshop: Building Your Brand on Social Media
Tickets are not available for sale any more for this event!