Jenny Inglis – In The Spotlight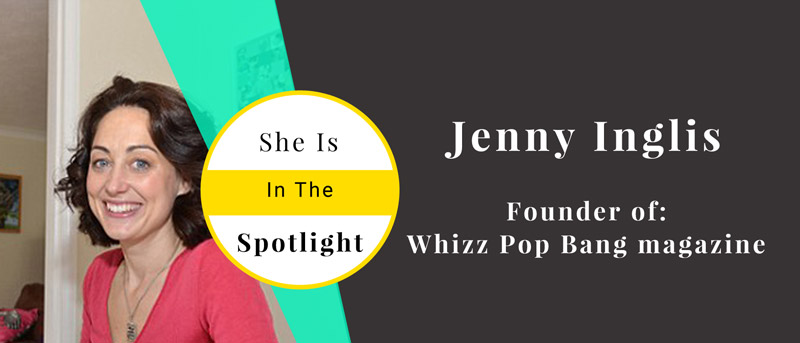 Whizz Pop Bang Magazine has gone from a simple idea to raising £12k on Kickstarter and getting 15,000 subscribers in just 1 year.
So I wanted to speak with Jenny Inglis, founder of Whizz Pop Bang a subscription based children's science magazine, to find out how she harnessed the power of crowd funding and social media to build her business to award winning status so quickly.
What made you start Whizz Pop Bang?
It was getting to the time in my life when my youngest was coming up to school age and I was just reassessing what it was I wanted to do with my life.
After studying physics at university and from my career in educational publishing, I always had a thing about wanting to get more kids into science, specifically helping girls realise that science is for them just as much as boys.
That, combined with being so fed up with the children's magazines on offer in supermarkets, that are all about the free gift on the cover, with very little content inside, got me thinking about Whizz Pop Bang.
It started off being something I could do in the evening, or when the kids are in school and it would be fine and not too much work, but it kind of just took off.
What's your role in the company?
I'm still very hands on. I've managed to delegate a fair amount of work, I've got a top editor and use lots of freelance writers. We've got a couple of people that really help with all the customer service side of things and looking after the data. I'm still involved in writing the magazine and overseeing and managing Whizz Pop Bang.
Why did you choose crowd funding for investment and how did you go about it?
Finding out about Kickstarter was a major part of me deciding to do this magazine. I thought it was a fantastic platform and brilliant way to start a business. I was very excited about it, it was something I've never done before.
If you're not familiar with crowd funding, it's a way of funding a project by having lots of different people each investing a small (or large) amount of money, in return for something; like a product.  You set your project up with as much information as possible, a funding target and a deadline and wait for pledges to come in. I think I did mine in 3 or 4 weeks.
My mission was to build up an audience, so I wrote press releases and pushed the magazine on social media to get the word out.
We set the target at £10,000, which was not very much to launch a magazine, but I was doing this absolutely on a shoestring, writing it all myself and doing as much as I possibly could at home. We actually exceeded our target and raised £12,272 – which was great!
It was an absolutely manic time while the Kickstarter campaign was going on, I didn't look up from my computer. My mission was to build up an audience, so I wrote press releases and pushed the magazine on social media to get the word out.
From there the support was just amazing, so many people got on board, shared it and promoted the campaign – it was fantastic!
What was the most effective way of raising awareness for Whizz Pop Bang?
I did some leaflet drops and a few press releases, but the most effective way of promotion for us was social media. When somebody with a big following like Jason Godfrey from the Gadget Show would tweet about us, within an hour, it would go crazy. It was amazing and made such a difference. This just proves the power of social media.
It's so effective, around 98% of our advertising is on Facebook
We use Facebook adverts now too, which consistently show a return on investment. We can be really targeted with the audience we want to reach and it's so effective. I'd say around 98% of our advertising is on Facebook. If I compare the returns from other kinds of marketing, like flyers, press and events, they don't come close to Facebook advertising.
What's your proudest moment with Whizz Pop Bang?
It has to be the little moments. Some of the responses we get back from parents are really heartwarming.
One woman emailed to say that her son was on the spectrum and didn't have any friends and was really struggling at school and she couldn't find anything that caught his imagination until she subscribed to Whizz Pop Bang and he really took to it.
He started to gain confidence and even invited friends back to the house so they could all do experiments together. It's hearing things like that which make you think "oh yeah, it's definitely worth what we do."
It's quite important to you that you stay connected to your followers and your customers then?
Yes, definitely. Science is all about discovery and sharing, so social media is such a great way to stay connected with our subscribers and see how they're using the magazine. We use Facebook, Instagram, Twitter, Pinterest and YouTube to keep in touch with our followers.
What's been the toughest time for Whizz Pop Bang?
I'd say the sheer weight of work. It was a strain on the family in the beginning because I was so busy, that my husband had to do the main share of the child care. But it was worth it and it's getting much easier now, with the amount of subscriptions we've sold I'm able to farm out a lot more work.
What advice would you give to someone else who's thinking about starting their own business?
I would say absolutely go for it. It's such a brilliant thing to do. Don't be frightened or put off, most things you can learn on the fly and don't be afraid to change things if you need to.
It's all out there on the internet, just learn the skills that you need in order to progress. I say go for it.
I learned how to code and set up my own website, which started off as a WordPress site, using GoCardless to take payments. We had a few problems with the subscription model of WordPress, it just wasn't functioning as it should have been and was too tricky to keep track of, so I had to do some research and we switched to a system called CrateJoy, which is much more efficient.
What are your plans for the future?
We hope to explore the overseas market a lot more. We've got around 15,000 subscribers … We're in 28 different countries, so to get some distribution in other countries would be good, and then just to continue to grow the subscriber base and collaborate more with other companies.
Find out more about Whizz Pop Bang Magazine on their:
If you run a business online, please Contact Us we'd love to hear your story.