7 Ways Social Media Managers Can Avoid Content Block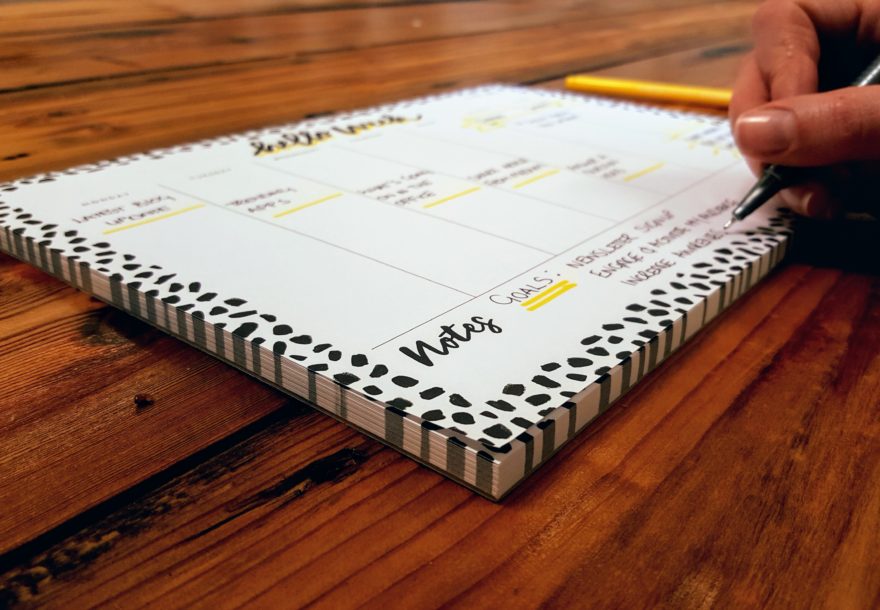 When you're a social media manager, it can be a tough job coming up with new content to keep all the feeds you manage topped up with fresh and engaging content.
Without a process in place that helps you plan ahead you can end up spending hours pondering different ideas.
So I wanted to share a list of post ideas that will build the foundation of your social media content calendars for all of your clients. Plus save you a heap of time!
7 Ways Social Media Managers Can Avoid Content Block
1. Break Down Your Clients Social Media Goals
Harvard Business found that people who write down their goals have an 80% higher success rate of achieving then over people that don't write down their goals.
So before you start planning any content you need to sit down with your client and define their priorities. Align actionable metrics to those goals and measure them and create monthly milestones in your calendar where you check in with your progress.
Breaking down your clients goals in this way will determine the kind of content you need to be creating.
Time to start planning your content!
2. Outline Important Dates
This is where you make a note of any relevant national and fun holidays, special events related to their industry and company related dates like anniversaries or birthdays. So if you're a baker, pancake day might be an important date, or if you're dog groomer, national bring your dog to work day might be worth highlighting.
Including this kind of information in your social media calendar will give your client more emotional appeal. It shows a human side to the business and it's that human side that builds a community around their niche. The timely and relevant nature of this kind of content also makes it more sharable.
3. Include Evergreen Content
This is your timeless content; the exact opposite of what I've just talked about but no less important. Your evergreen content is the stuff you could keep reposting through out the year, like blog posts, how-to guides, Ebooks, case studies and video tutorials. This is the content that will help establish some authority in your industry.
The great thing about including your ever green content in your social media calendars is that it helps drive traffic back to your clients website, enabling you to continuously leverage on that content.
4. Write Down Significant Dates for the Business
This is different to the "important dates" I mentioned earlier in that significant dates are only related to the business. So it's any product launches, campaign launches, announcements and promotions.
This allows you plan the message ahead of time and create an appropriate sales funnel around these announcements.
It's important you establish a clear call to action on these type of posts to max out on the engagement and get the conversion your client needs. Ask yourself, will they link to a landing page? Is there going to be a data capture form? Having the answers to these questions ahead of time will help you avoid last minute updates that don't convert.
5. Take Advantage of User Generated Content
This is great calendar filler, and is really easy to create. Simply tap into all the good stuff followers are saying about your client and share it. Sharing complimentary posts and reviews from customers will attract more attention to the page and the posts on it.
Sharing customer feedback, also shows that the business actually cares about what their customers think. Future customers will be encouraged to leave feedback themselves if they can see other people have done it too.
6. Find and Share Other Peoples Content
This is your curated content. Where you find niche related articles written by other people and share that on your page. This can be reposted or shared content that already exists on the social platform of links to content on other websites.
Sharing links to other peoples websites might seem counter productive as you don't benefit from any traffic yourself. But what content sharing does is prove to your followers that you have a solid understanding of your niche and you're even on top of what everyone else in the industry is talking about.
Knowledge sharing like this will help build trust within that social community and will also extend your reach to the people already following the content your sharing.
Content curation allows you to expand your content offering with out taking up loads time and resources.
7. Make Their Content Network Specific
Each social network is different and the way it's audience consumes content on that network is different too. Which is why it's really important you make your content network specific.
Think about the content medium you're going to post in, is it a video, an article or slide share? Then find out which social platforms support that medium the best.
For example, sharing articles works really well on Facebook, LinkedIn and Twitter and sharing Images works really well on Instagram and Pinterest.
The next thing to consider is that your content is formatted properly for the platform your posting on. You want your content to look great and stand out, but if your images are the wrong size they could get cropped and your followers could miss out on vital information.
Include these content ideas in your social media calendars and you'll never experience post block again. Plus you'll fill your feeds up with a mix of fresh and engaging content your clients will be thrilled with and save yourself a tone of time in the process.
Wins all round!