7 Steps To Successful Marketing In 2018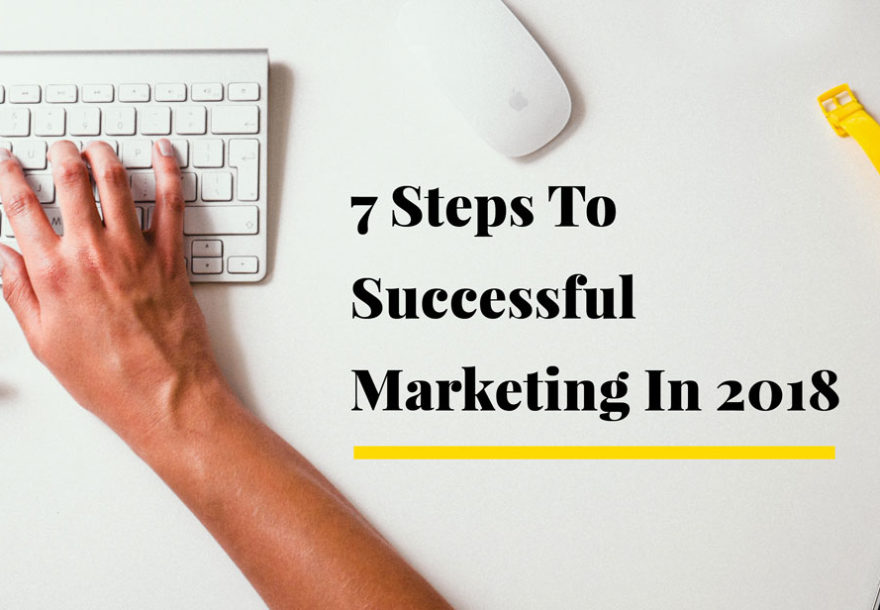 I want 2018 to be a great year for you and your business, which is why I've put together the 7 Steps To Successful Marketing in 2018.
By following these 7 steps every time you address your marketing and campaign strategy, you will make your marketing more effective and 100% more likely to pay off.
1. Set Your Goals
Your business goals are what will define your whole marketing strategy for the year ahead. What do you need your marketing achieve? Is it more website traffic, more email subscribers or are you promoting a specific product.
To make your goals tangible, be really specific with the outcome you want. Attach actual figures to your goals. For example increase website traffic by 60%, or gain 100 new email subscribers.
Giving your goals value doesn't just make them more defined, it also makes them easier to track.
2. Know Your Audience
Next you need to know who your audience is. Arguably this should be in joint first with your goals, because without a target audience there's no point to your marketing. Anyway, having a very clear idea of who you're targeting your marketing efforts towards will help you set the tone for every piece of content you create.
Knowing who your audience is will also give you an idea of what they like. Where they spend their time and what they're likely to be interested in.
One of the most important things you need to know about your target audience though is what they need. What problems are they suffering from that your product or service can solve?
It's a sort of backward way of saying what's brilliant about your product or service. But with all the emphasis being on your audience and how you can help them.
3. Know What Makes You Special
This is another way of saying "Know your unique selling point" (USP). What is it you're offering and why is different to what everyone else is offering. It could be your location, your production method, or your unique set of values, or a combination of all of those things.
Whatever it is that makes you stand out from all other people doing what you do, make sure you can articulate it. Then communicate it religiously in your marketing.
4. Be Creative With Your Content
This is the fun bit. This is where you take everything you know from the first 3 steps and turn it into actual content.
Here's one of the ways I come up with new content ideas:
I write a list of all my marketing goals – More visits to this page, or more email subscribers from this download, pitch myself as an educator to freelance social media marketers.
Then I write another list of my different audience types – Small business owners, bloggers, freelance social media marketers, marketing teams of bigger businesses.
I write another list of the things that make me special – Wordpress specialist, Agency experience, technical knowledge, my winning smile.
Then I write a final list of different content types – Personal story, how to guide, examples of work, downloads, useful facts, resources.
I pick one item from each of the lists and put them together to form my content idea.
For example:
A personal story about my agency experience for freelance social media marketers aimed at freelance social media marketers.
Other types of content you create will be more obvious depending on your specific goals, but if you need a bit more inspiration the list thing really helps.
5. Select Your Channels
When you've establish a content subject or idea, you then need to decide how your going to communicate it. Will it be a blog post, and email, a quote, a video interview or a podcast?
When you've got that figured out, think about what channels will best support your chosen marketing medium.
Bare in mind that you can use more than one channel to get your idea out there too. You can multi-channel. That's taking a piece of content like a blog post, then using additional channels like social media and email to bolster that message, giving your audience more routes to your end goal.
A Multi-Channel approach will always be the best way to get your content out to a wider audience. Getting into a multi-channel mindset will also get you naturally repurposing your content to suit different channels. Blog posts can evolve into a podcasts, quotes and facts can become infographics.
6. Create A Campaign Timeline 
Working through the steps up to this point is where your campaign strategy really starts to take shape. You need to keep repeating the process until you've ticked off all the business goals you want to achieve this year.
Then use a Content Calendar to schedule each piece of content on a daily basis.
I use an annual content planner. I don't necessarily get it all filled in at once, but I do like to be covered a month in advance.
Creating a content strategy and scheduling in this way means you can be consistent with your marketing message and automate you process. You can use social media schedule tools like Buffer to plan social media posts in advance, schedule the publish date of your blog posts and schedule when your emails go out.
Having all of that covered also makes it easier to fit in some in the moment marketing. You'll have the head space and time to react to breaking news, relevant articles by other people in your niche or spontaneous events that just happen.
7. Know Your KPI's
This is what takes your marketing to the next level. KPI's (Key Performance Indicators), in non marketing jargon, are the measurable steps you need to take in order to achieve your goals. Which is why I talked about giving your goals tangible value back at Step 1.
For example:
If your goal this year is to get 1000 people to download your free guide each month, what is the actionable step or steps you need to take to make that happen. For this example you would need to increase your website traffic. Increasing your website traffic would be your KPI.
Here's another way to put it:
Suzzie currently gets 500 downloads a month of her Morning Motivation Guide.
Her current website traffic is at 4000 visits a month.
To increase the download amount of her Morning Motivation Guide Suzzie to 1000, she needs to increase her website traffic by 100%.
Her KPI therefore is getting her website traffic up to 8000 visits a month. By tracking that KPI Suzzie can safely assume her monthly download figures will also go up 1000 and she'll meet her goal.
Download Your Free 2018 Content Planner
Now you've worked your way through the 7 steps, it's time to get your content ideas down on paper, and start planning out when are where your marketing is going to take place in 2018.
To make this easier for you, I'm giving you a free copy of my own Content Planning Template.
Download it, fill it in and make 2018 amazing.