7 Steps To Creating a Successful Blog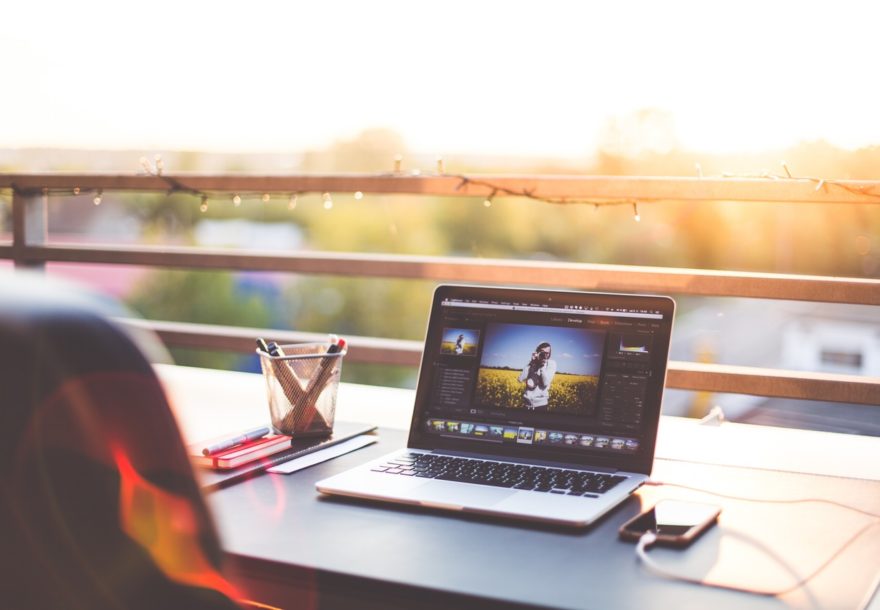 If blogging is your thing, and you spend hours pouring your heart out in your posts

, you want to make sure those follower numbers start wracking up.

Whether your blog is designed as a marketing tool to help promote an existing business or your grand plan is to turn your blog into a money making machine, the first steps to achieving these things are the same.

If you want your blog to be successful, you need a strategy.  I have listed the 7 steps to creating a successful blog every blogger should live by.
1.Choose a Niche
Step one in blog domination is choosing a niche to dominate. Some of you may already have a subject or an area of expertise that you're passionate about, for example, fashion, sport, travel, parenting, and although these are specific subjects, they're still not a niche.
When you're starting out on your blogging journey, the more defined your subject matter the better. A more targeted blog will draw in a specific audience and will also help you create more helpful and detailed content instead of being too broad and vague.  
A good way to start defining your niche is to take your subject, let's use travel as our example and write down 1 thing you absolutely love about that subject and 1 thing you know most about that subject.
So, with our travel blog example, the one thing you love could be European cities, and the one thing you have the most experience in is traveling with your boyfriend.
The answer to those two questions will start to define your niche – Couples European City Breaks.
Now, I'm not suggesting that your niche defines your blog forever,  as you gain more experience and followers you can start to broaden your offering, but it's just a little harder to get going if you start off with a huge range of subjects.
2. Define Your Target Audience
Your target audience are the people who you want to be reading your blog, connecting with your content and supporting your brand.
The most effective way to build up a dedicated following for your blog is to clearly define its target audience right from the beginning, and then produce content that speaks to that audience.
We're getting back onto niching now, but this time you need to niche your audience. Developing appropriate content specifically for your niche will make sure there's a strong interest in your blog's content, plus make it easier to promote.
The more narrowly you can define your target audience, the easier it's going be to identify with them and write about things they actually want to read. It also makes it easier to connect with them through your advertising and marketing.
Back to our travel blog example, to get an idea of our target audience we need to ask ourselves few example questions:
How old are they?


Between 20 and 35 years old.

What's their income level?


Individual salary of between £25k and £35K

Marital status?


In a relationship but not necessarily married

Special Interests?


Architecture, great food, relaxation
The answers will start to establish our target audience – Young professional couples that want a relaxed break away from their busy lives and immerse themselves in fine hospitality and culture.
Armed with a deep understanding of your audience and their characteristic you can start to create irresistible content for them.
When it comes to online marketing for your blog, you can make smarter decisions about where to advertise too e.g where all the young professional couples hang out, and how to speak to them using language that will resonate with them.
3. Make Your blog's Content Uniquely Yours
You, as a blogger, (and as a person) are a unique individual. You have a tone of voice unique to you, phrases you always use and stuff only you know, which together make up your personality.
One of the easiest ways to set your blog apart from all the other blogs out there, is to make sure that personality comes through in your copy. Your voice, your unique experiences and knowledge and your unique opinions.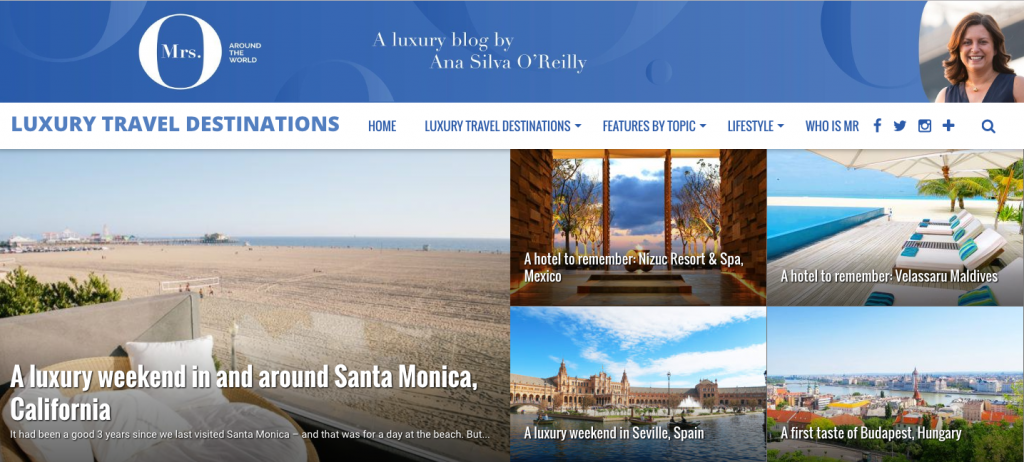 A great example of this (sticking with our travel theme) is travel blog Mrs. O Around The World, where Ana Silva O'Reilly is renowned for sharing her very honest opinion. As well as sharing stunning destinations and insights into the best places to eat, drink and shop on your travels, she has also gone behind the scenes at Heathrow Airport! That's taking travel blogging to the next level.
It's a good idea to research how other bloggers in your field are doing things, not just for ideas, but keeping an eye on what your competition is up to will also help you stay up-to-date on trends happening within your subject.
4. Be Consistent with your Content.
When you buy a magazine, what do you want to gain from it? You want to read new information, and find out about stuff you didn't already know.
A blog is no different. If you want your audience to click on your site every week, you need to add new, fresh content regularly. You wouldn't keep reading the same magazine over and over again would you?
Think of your favourite magazine again, what makes you buy it every month? It's because it consistently prints content on a specific topic designed for your needs as their target audience.
Staying consistent is super important, and that is true on all levels of your blog, from tone of voice, design and how often you add a new post.   
If you decide to add one new post a day, then stick to that plan, your readers will come to rely on that update. But make sure you set yourself realistic goals, you're better off promising a new post once a week and making that post the dogs doodahs, instead of a mediocre post every day.
5. Create an interactive online community
Encouraging your readers to leave comments on your posts, is a great way to get audience feedback on your subject matter and a way to enhancing your content with your readers own experiences and knowledge.
Having a strong opinion on a subject in your posts can encourage feedback. Your readers will either strongly agree with you or disagree, either way it will spark a conversation and you need to try and keep that conversation flowing. You never know, it might lead to your next blog post idea.
Or, if you're not comfortable with being provocative, then asking questions is good way to interact with your audience. Finish your post with a question to encourage your readers to leave feedback.
Back to the travel blog, you could ask your readers where their favourite holiday destination is and why. Encourage them to leave feedback by offering them a guest post spot featuring their travel experience.
Making your readers feel valued, and that their opinion is important to you (which of course it is), will help develop a real connection with them. That connection will create a deeper understanding of your audience, making you able to create better content for them.
Make it easy for readers to share your content too. Add a "Share" button to each of your posts, so your readers can share it on Facebook, Google+, Twitter, LinkedIn etc and spread the word for you.
Most blogging platforms will have a widget available to makes it easy to add a "Share" button into your blog.
6. Promote Your Blog
If you want people to read your blog, you need to let them know it's out there, and that requires ongoing marketing.
A free way to do this is to Grow Your Audience With Social Media Marketing. This is simply harnessing the power of social media to direct people to your blog. You can update your Social Media feed with your latest blog offerings, up and coming events and share other interesting or funny posts relevant to your subject.
Creating social media profiles for your blog won't just help you get the word out it, will help you connect with your target audience and communicate with them in a relaxed, no pressure environment.
Paid for advertising is also an option if budget allows. You can use Google ads, or pretty much all of the social media platforms now have a paid for ad offering. But  make sure you plan your ad before you invest in one.
Another way to get yourself out there, is get in touch with other bloggers. Back to the travel blog example, approach bloggers with a similar audience, maybe a more lifestyle themed blog that would appeal to the 20 – 35 year old demographic and offer to guest blog for free.
Do a bit of homework on them first and make sure your content would be relevant, then drop them an email. Most bloggers are more than happy to share content and reciprocate, it helps to build their audience too.  
7. Design Your Blog to be Representative of Your Brand
The look and feel of your blog is the icing on top of your blogalicious cake. You've got a bank of super interesting posts and you want your audience to find them easily, enjoy reading them and spending time on your site.
Blogging platforms like WordPress or Wix will take care of the bulk of the design work for you. All you have to do is a choose a template that best suits your requirements and your brand and start adding content.

Nomadic Matt's travel blog is a great example. He has clear navigation, bright images and a helpful and detailed category list on the home page.
He's posts have lots of lovely big images and his content is broken down into bite sized paragraphs, making it nice and easy to read.  
Last but by no means least, be sure to proofread your work, or better still get someone else to proofread it for you.  
Happy Blogging!