6 ways to best Promote your Products on Pinterest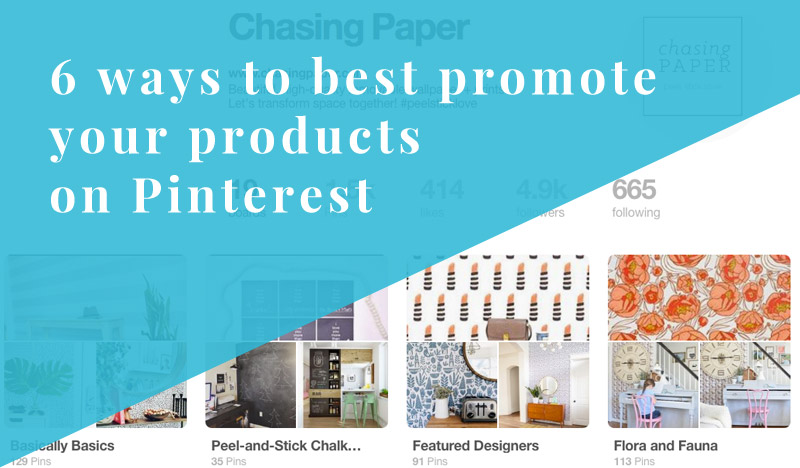 Promote your products on Pinterest and spread the word about your business by doing these 6 things:
1. Use Original Pictures
If you want your images to be popular, you need to pin original images. Images of your work as your making it or doing it, product shots, even images off the raw materials you use to make your product will give your audience that deeper understanding of your brand they're looking for.
These are the kind of images that are more likely to be "repinned," "liked" and commented on the most. They will become a reflection of your brand and start to create it's identity. 
A good example is Ana White's Carpentry Blog. A recent post on Social Media Examiner shows how her blog receives more than 6,000 visitors a day from Pinterest. This is because she focuses on publishing original pictures of her carpentry work on Pinterest.
These include pictures she took of the cupboards, desks and other furniture she created and posted on her blog. Her blog readers then pin Ana's pictures onto their own Pinterest boards where other Pinterest users see them, repin them and like them. The end result is a lot of traffic to her blog.
2. Pin Other People's Content to Build a Wider Following
The great thing about Pinterest is it isn't just about pinning your own pictures onto your boards. Just like on any other social medium, you need to share other people's content too. So look for others' pictures and content relating to your product or service and pin them onto your boards.
Make sure you label your boards well and stick to a specific topic on each pinboard.
3. Create Catalogs
Another fantastic way to display your products on Pinterest is to create catalogs or collections of your work. You can create a Pinboard for each collection, Chasing Paper, a company who specialise in removable wall paper, show a good example of this.

You can also add a price to these pictures. When you want the price to be displayed on the pinboard, all you have to do is add the £ sign followed by the price to the description and the price will be displayed.
By adding the price to your pinned product will make sure you only attract people to your website who are really interested in buying the product. Although it's great having loads of traffic on your site, it's only ever worth it if that traffic is converting into sales.
Another company using catalogs effectively is Nordstrom. If you visit their Pinterest profile, you'll find pictures from several collections pinned onto many pinboards as catalogs.
4. Host Competitions
Competitions are a great way to get attention on any social media channel and it's easy to get one going on Pinterest. Let your fans know what the prize is and ask them to take a picture of something and share it to win the competition.
Ask your fans to pin that picture onto their pinboards. They can then either send you the link to their picture, or you could ask them to use a unique hashtag to enter the competition. Then you'll have to search the hashtag on Pinterest and  pick a winner.
5. Get Fans Involved to Help Spread the Word
The pinboards you create don't have to contain only your pins, you can select other people to pin pictures onto your boards too, like fans of yours wearing/using your product for example. 
Chasing Paper again have nailed this concept with their Show Us Your Inspiration board, where they encourage their followers to pin what inspires them and then Chasing Paper share what inspires them. This is such a great way to do a bit customer research too, and find out what your followers / potential customers are into and what they're interested in.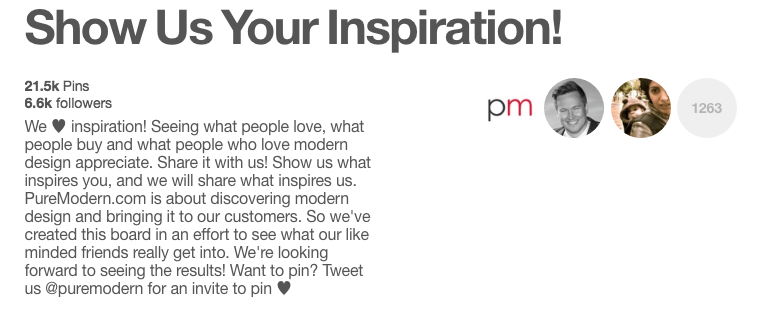 You can also use this feature to collaborate with other business in your sector to share complimentary products and styles and help each other to spread the word about your products.
6. Pin Offers
Offers, like competitions are another great way to get your followers to share your content.  You can create a unique image with your latest offer and pin it onto one of your boards, or create an exclusive board to pin your latest offers for Pinterest users only.
These offers could be exclusively uploaded to your Pinterest boards, or they could be pinned from a website page.
When you pin offers, your fans will definitely repin them and share them with their friends. Everybody loves an offer. 
The Wall Street Journal is making good use of Pinterest to promote their latest offers. On their Pinterest profile, they have a pinboard where they pin images of daily deals from their promotional service WSJ select. Their pins contain a picture of the product and have a description of how much the deal is worth.
I've also found this http://business.pinterest.com/en there might be more helpfull advise here.
Happy Pinning. x