6 Best Ways To Build Your Personal Brand on Social Media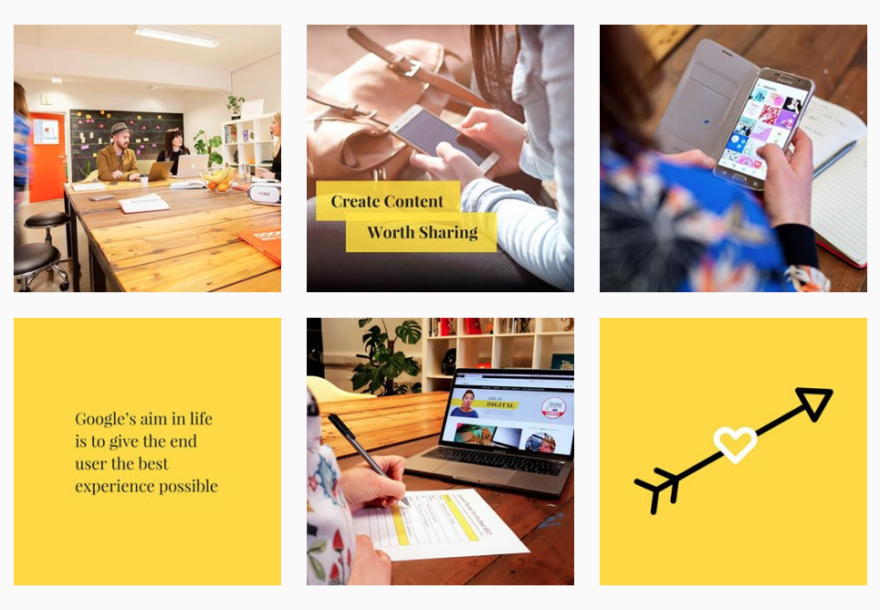 When you run a small business, having a strong online presence can make all the difference to your bottom line. With over 600 million active websites on the internet and billions of social media accounts, how do you make yourself stand out?
The answer is by building a personal brand.
A personal brand is very much like a business brand in that it needs an individual message, values and appearance. But it's focus is all on you as an individual. Your expertise, your influence and your personality.
Your personal brand is how you present yourself both online and off-line, and what people will remember you by.
Think of your personal brand as more than just a logo on a business card. It's an extension of you, and defining yourself in this way will help your business grow.
How do you build your personal brand?
The best place to establish your personal brand is on social media.
Personal branding is all about proving that you're an expert in your field and a thought leader in your niche. And social media platforms give you the tools you need to communicate that effectivity, making you more attractive to your customers.
Now, it's not as easy as setting up a personal Instagram or Twitter account, there's a planning and strategy process involved. But don't worry, I've broken down the process for you into 6 manageable steps.
6 of the Best Ways to Build Your Personal Brand on Social Media
1. Do You Need A Personal Brand?
Before I get into the how, I want you to first think about the 'why'; and whether or not creating a personal brand is actually going to benefit you.
When I decided to build my personal brand I had a clear idea of what I wanted to achieve and what my message was. This is key for any branding, be it a business or personal brand, you have to have a clear message.
Ok, now to decide whether or not you need a personal brand at all.
Lets say for example you've got an online shop and you sell a mix of branded home accessories. There might not be a lot value in establishing a personal brand, because your customers don't actually deal with you personally. What you can do in that case is work on building your business brand.
The consistency of your brand's look and tone will be more important as this is what your customers will remember. The quality of service and products your customers receive will have more value than who is actually running the business.
On the flip side, if your business is all about you and your expertise and your work is client-facing, building a personal brand would be a good route for you. For example, you're a business coach and you want to sell your courses.
When you run a client-facing business, your personal brand will give your potential clients the best impression of you and ultimately have a positive impact on sales. Social media is the perfect platform to create an excellent impression of yourself and connect with your target audience online.
You can of course have both a business and personal brand, but while you're getting started I would suggest you focus on one, get that to where you need it to be before working on the next.
2. Choose The Right Platform
If you've decided a personal brand is the way forward for you, then you need to choose the right platform. Before you decide on the social media platform to use, ask yourself "what platform are are my target audience on? and what platform best supports the medium I communicate in?"
I'll just explain what I mean by medium of communication. If what you do is very visual, photography would be the best medium to communicate in and Instagram or Pinterest would be the best platforms.
On the other hand, if you're a talker or maker, then video might be a great way to communicate what you do and Youtube would be the best platform.
Each platform has it's own benefits and here's a break down of the most popular social media channels to help you figure out which one would be best for you:
3. Develop a Social Media Strategy
This is your plan of action. How are you going to use social media to achieve your marketing goals. How are you going to present yourself on social media so your followers become familiar with your brand?
Think about the tone of voice you're going to use. Are you going to be funny, quirky or informative but friendly?
The great thing about a personal brand is that the brand is you. It's your tone of voice and it's your personality, so just be you. One thing to remember though is the persona you create on your social media channels needs to be reflective of what your followers will get in real life.
The persona you create on your social media channels needs to be reflective of what your followers will get in real life.
Click To Tweet
When developing your strategy, think about how you can use your posts to:
Tell the story of your brand
Make your followers understand how you can fulfil their needs
Encourage them to get in touch
4. Create Engaging Content
When you've chosen your platform and set yourself up with an account, you need to start creating content, and by content I mean posts, or tweets or pins.
If you're going to build your personal brand on social media you need to keep your feeds updated regularly to keep your audience engaged.
The more you post, the more your content gets read and shared and the more your brand grows.
There are two things you need to consider when it comes to content, and they are when and what. When are you going to posts? and What are you going to post?
Think about when your audience might be on social media and post at those times for maximum engagement. If you target young professionals then posting in the evening or at lunch time might be the best time, or if your audience is new mums, then first thing in the morning might be a good time to catch them.
To make social media content worth sharing  your content needs to have some kind of emotional impact. I'm not suggesting your content needs to be super serious or hysterically funny, but it does need to speak to them on some level.
You could start by calling out your audience. This is a really simple way of getting the attention of the right people, and making them feel valued and understood.
If your business is location specific and your target audience is in Cheltenham, then talk to those people. You could start a post with "Hey Cheltenham professionals…" or "Calling all young professionals of Cheltenham…"
Use your content to fill in any knowledge gaps your followers may have when it comes to your business. Think of creative ways you can answer FAQ's in your posts or give your followers a taste of what you do.
The most important thing about content, is that it needs to add value to both you and your audience. Before you post something ask yourself is this going to helpful, useful or entertaining for my followers? and is it going to help me achieve my goals?
5. Be Consistent
Consistency is king in the world of social media. When you're starting out and it feels like no-one's interested in what you have to say, this is when you need to be the most active.
Building a following can be a slow process, but you need to keep going. You're not going to attract new followers if you don't post regularly, it's as simple as that.
And 5 followers are just as important as 500 followers, so don't be slack on social media just because you don't have many followers.
Social media channels are busy places and unless you post regularly there's every chance your content will get missed. Posting daily is going to give your accounts the best start and your followers will get familiar with your content in their timeline.
Your consistency will pay off and when it does you need to make sure you're posts convert you followers into customers.
Including links back to your website in a large percentage of your posts will direct your followers to where you need then to go so you can work on converting them in to paying customers.
6. Analyse Results
Creating content for your social channels can be really time consuming, and checking the analytic data is often overlooked. But knowing how your social account is performing is vital to it's success.
So, to make sure you take the time to check your data I'm going to make it really easy for you to understand what you need to check and how to use it to make improvements.
Firstly, check in with the social media platforms analytics once a week.
Each platform has built in analytics software making it really easy for you to monitor it's progress. What you're looking for when you get to the analytics dashboard is your post engagement rate.
All you have to do is find the posts that are getting the mosts likes, shares and comments. These posts hold the winning formula to the most engaging and shareable content you can create for your audience.
When you've found the posts with the winning formula, replicate that formula in all of your future posts and watch as your engagement rate creeps up.
Monitoring your post engagement rate and making an effort to improve it every week will give you the insight you need to build better and more successful social media campaigns and achieve your goal or establishing a solid personal brand.